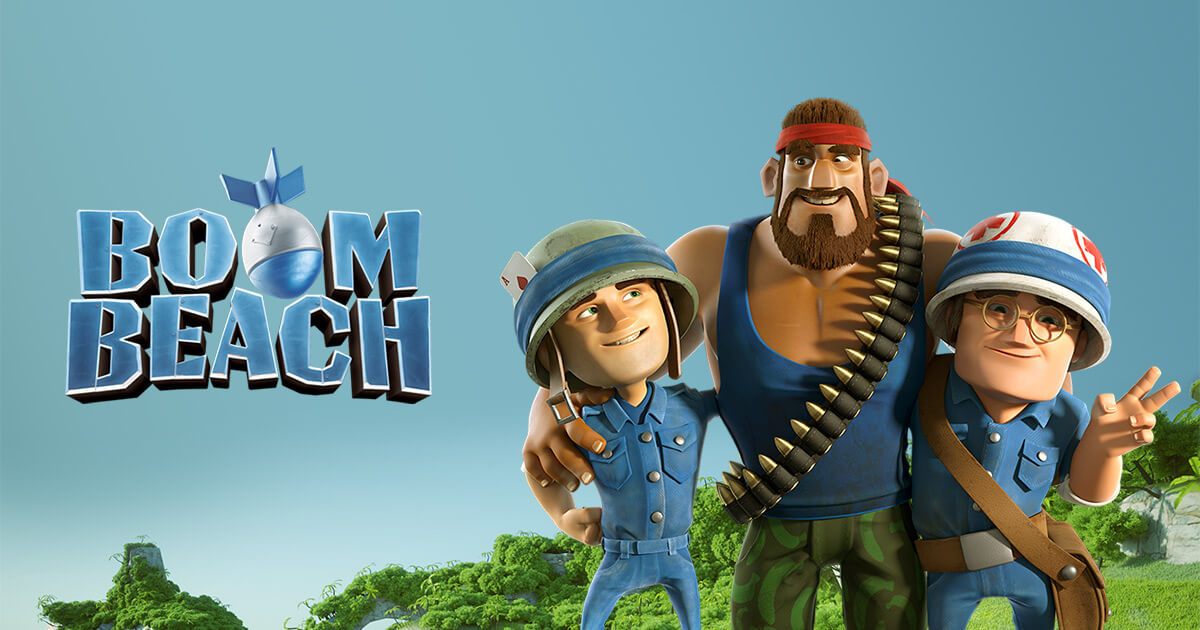 Battle and defence games are a kind of strategy war game that usually have one main goal, to control your territory and to battle your way through invading factions. In these fun defence games, you need to grow your army, build structures, build defences, battle, and gather coins for various resources and perks. Most of these games are played in real time. If a house takes 3 hours to build in the game, it will take 3 hours to build in the game. There are a lot of battle and defence games but some stand out more than others. One of the best strategy defence games is Boom Beach. Boom Beach is an online multiplayer game that launched in 2014 and was developed and published by Supercell. This game can be played on Android and iOS.
In Boom Beach, you will find yourself on a tropical archipelago. Your main goal in this game is to build defences and raise troops. There are other side quests available that will give you better resources and diamonds that can be spent on exclusive items. You can also purchase these diamonds for real money. In Boom Beach, you need to gather wood, stone, gold, iron, intel, prototypes, special stones, and more. Use your gathered resources to build statues that will help boost numerous aspects of the game like health, energy, and production time. Boom Beach is a passive game that will take you a long time to play. Start your long term productions and come back later for the results. If you like this game, you're guaranteed to love these other games like Boom Beach. Browse them all to find a new game to play that uses battle and defence strategies.
Narcos: Cartel Wars
Narcos: Cartel Wars is one of the best additions to our list of defense games like Boom Beach. This game is based on the popular tv series found on Netflix of the same name. Narcos: Cartel Wars can be played on your computer or downloaded as an app for your mobile Android and iOS devices. This game is free to play with additional content available for purchase, buy you don't have to buy anything to succeed in the game. This game is about power, loyalty, warfare, and product. Narcos: Cartel Wars is dangerous and thrilling and teaches you that sometimes bad people do good things. Manage your relationships, recruit your cartel, build your base and defenses and wag war on your enemies in this game. Find the right smuggling line to make the most profit.
---
Plunder Pirates
Plunder Pirates is one of the top wall defense games found on our list of alternatives to Boom Beach. This game is 100% free to play, but you can buy additional content if you want, none is needed to advance in the game. Plunder Pirates was released in 2014 by Midoki for Android and iOS. This massive multiplayer game was inspired by the ever popular Clash of Clans. Plunder Pirates had more than 5 million players in its first year. In this game, you will need to train your pirates, build a base, explore the sea for treasures and new locations, and defend your base against enemy attacks. In this game, you will need to collect grog and gold to buy bigger buildings and better defenses. This cool pirate game is in 3D and you can control the camera giving you a better view than most castle defense games.
---
War of Beach
This is another game that's played the same way as Boom Beach. War of beach is a game that was released in 2015  by Lucky Girls Limited. This battle and defense game is strategic, action packed, and free to play. War of Beach is also a war simulation game. This game can be played in 13 languages on Windows and Mac computers. War of beach features cute cartoon military soldiers and bright landscapes. Your main goal in this game is to rule your island. You can play it alone or online with friends. In War of Beach, you will need to collect coins that can then be traded in for things like defenses, buildings, troops, and decorations. This real time game is a ton of fun and must be checked out if you love Boom Beach.
---
Battle Islands
Another free to play world strategy game found on our list of games similar to Boom Beach is Battle Islands. This game set during World War II can be played on Windows, iPad, Android, PlayStaion4 and Xbox One. Battle Islands is a game developed by DR Studios and published by 505 Games. This action strategy game is set in 1942 on a tropical island. You need to learn to hold your ground and defend against enemy troops if you want to live through the day. In Battle Islands you will find a ton of WW2 themed items. Create powerful allegiances, battle against your friends, build your garrison, and control air, sea, and land forces as you gain experience to grow in this game.
---
Samurai Siege
You can find this addition to our list of games like Boom Beach in the Google Play Store and the Apple App Store. Samurai Siege has been translated into 12 different languages and features frequent intense cartoon and fantasy violence. This game created by Space Ape Games has ongoing updates and cool new add-ons appearing all the time. Samurai Siege will immerse you into the land of the Samurai. In this battle and defense game, you must build your own village from scratch, train your armies from beginners to masters, negotiate alliances that can help you during the war, and figure out how to upgrade your villages and troops the best way. This game counts your score on the Samurai Siege leaderboard, try to make it into the top 10.
---
Monkey Bay
Monkey Bay is a cool monkey defence game that must be added to our list of Boom Beach alternatives. Created by Jo-Mei Games, Monkey Bay is the game where pirates and monkeys form alliances on the sea. This crazy pirate filled world is filled with kooky characters like zombie chickens, dorky privateers, and of course, monkeys and pirates. In this game, you will find beautiful islands and exciting battles. This Island defence game needs you to build a base for your ruthless pirates, find ways to secure your loot, and hire the right crew to help you along the way. This game can be played alone or online with realtime PvP battles. Monkey Bay can be downloaded for free on your Android or iOS device.