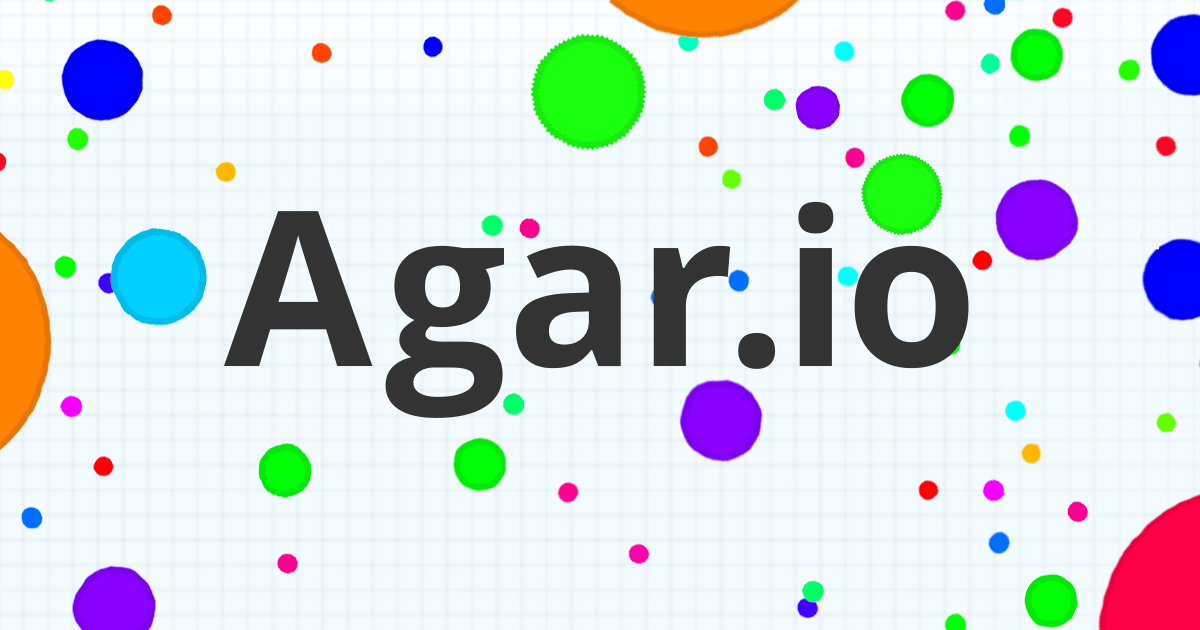 Playing quick and easy games are a great way to relieve stress during the day without consuming all your time. These games can take a few seconds to a few minutes per level. Agario is one of the simplest games to play when you have a few minutes to spare in your day. This game is published by Miniclip and available to play on Android and iOS. Agario launched in 2015 and it's now become one of the most popular quick multiplayer games in the world. This game consists of growing cells in a petri dish. While your cells grow, they cannot make contact with the larger cells or your game is over. Your goal is to avoid contact with the larger cells and eat the smaller ones to become bigger yourself. Concentration is key in the Agario game.
This game is very easy to play. Once you get the hang of moving your cell along the screen, you'll grow big in no time. Remember that the smaller you are the faster you move, as your cell grows larger, you will become much slower. Advantages and disadvantages can be found within the petri dish, learn what each color can do to master this game. One of these special cells is the green one called a virus. This virus will split your cell in two. Agario has four different game modes. FFA (free for all), Experimental, Party, and Teams. The mobile version includes a Rush mode.
Agario has a very cool feature which lets you magically transform your cell into something special, just by changing its name. At the beginning of your Agario game, you can choose a name, try something like "ayy lmao" or "cia" for a fun skin. There are more than a hundred different skins to be discovered in Agario just by changing the name of your cell. This game is very lightweight so it can be installed on any device, even older ones and its 100% free to play without any other installs needed, making it one of the best quick and easy games to have in your phone or tablet. If you like games like Agario, you'll love this list. Take a look now to find great games that can be played in a short period of time.
Cut The Rope
This challenging game can be played for a few minutes or for much longer. Cut the Rope must be added to our list of easy games to play similar to Agario. This game is available to play on Android and iOS. Cut the Rope is simple to understand, your goal is to feed a little monster a piece of candy. In this game, you will find things like swinging ropes, you have to swipe your finger at the right time to cut it and make the candy fall into the monster's mouth. As the levels progress you will be challenged with other things that need to be thought out and planned. Cut the Rope is over a decade old and it has numerous spinoffs from the original. This game makes you think and it will entertain you with the cut features and fun elements.
---
Piano Tiles
This addition to our list of games like Agario is one of the best car games for kids. Piano Tiles is playable on iOS and on Android. The Android version is called Don't Tap the White Tile, but it's the exact same game as the iOS version. Piano Tiles is incredibly addictive and easy to understand. Playing this will also help with your reflexes. This game features a grid with black and white tiles. These tiles scroll down the screen. Your job is to hit only the black ones. As you hit the right keys you will create a song, your goal is to finish the song without too many mistakes. Piano Tiles sounds simple enough but mastering this game can be a challenge, as you get higher in the levels, the tiles will move faster and faster. While this game might be for kids, it's also a lot of fun for adults.
---
Bowmasters
Bowmasters must be added to our list of top games for kids to play. This game alternative to Agario is only playable on Android. Bowmasters is simple to play and understand and it's a great way to relive your stress in a few minutes, making it a great game for adults too. This game consists of throwing projectiles at your enemies and watching them splatter in a comical way. This isn't a game that will hook you for hours but it's great for a few minutes each day. To play this game, you need to use your finger to pull back your projectile and adjust it either up or down before flinging it at your enemy. Bowmasters takes a few tries to learn the ropes, but once you've figured out the mechanics of this game, you'll be making headshots with every throw.
---
Color Switch
https://www.youtube.com/watch?v=aJ26eEKM8S0
Another one of our easy games for kids found among games like Agario is Color Switch. Color Switch is challenging but not impossible. This free game can be added to your Android or iOS device. Color Switch will also test your reflexes, just like Piano Tiles. The difference with Color Switch is that you can set your own pace. This game is simple to understand. You have to tap a bouncy ball and match its color as you pass through numerous shapes. The shapes vary in colors. To pass them, you must go through the same color as your ball. As you get higher in the game, the color of your ball will change. When you pass through the shapes you will earn points. These points can be traded in for different balls, try to unlock them all. Color Switch is very addictive, you'll want to beat your high score with each try, we guarantee.
---
Plumber Crack
Plumber Crack is an Android game. Since this game consists of throwing stuff into a man or woman's butt crack, it might be more suitable for older kids and adults. This addition to our list of simple games like Agario is free to play and a ton of fun. Plumber Crack features a plumber working under a kitchen sink, as per tradition, his butt crack is showing. This game gives you things like coins, peanuts, and ice cubes to fling in his crack. Other sceneries can be chosen like at the office or at the golf course and there are more than 15 different items to throw in your plumber's crack. Use the points you make to buy things like tattoos and costumes. There are more than 55 achievements in this game, earn them to show off your crack throwing skills to the world.