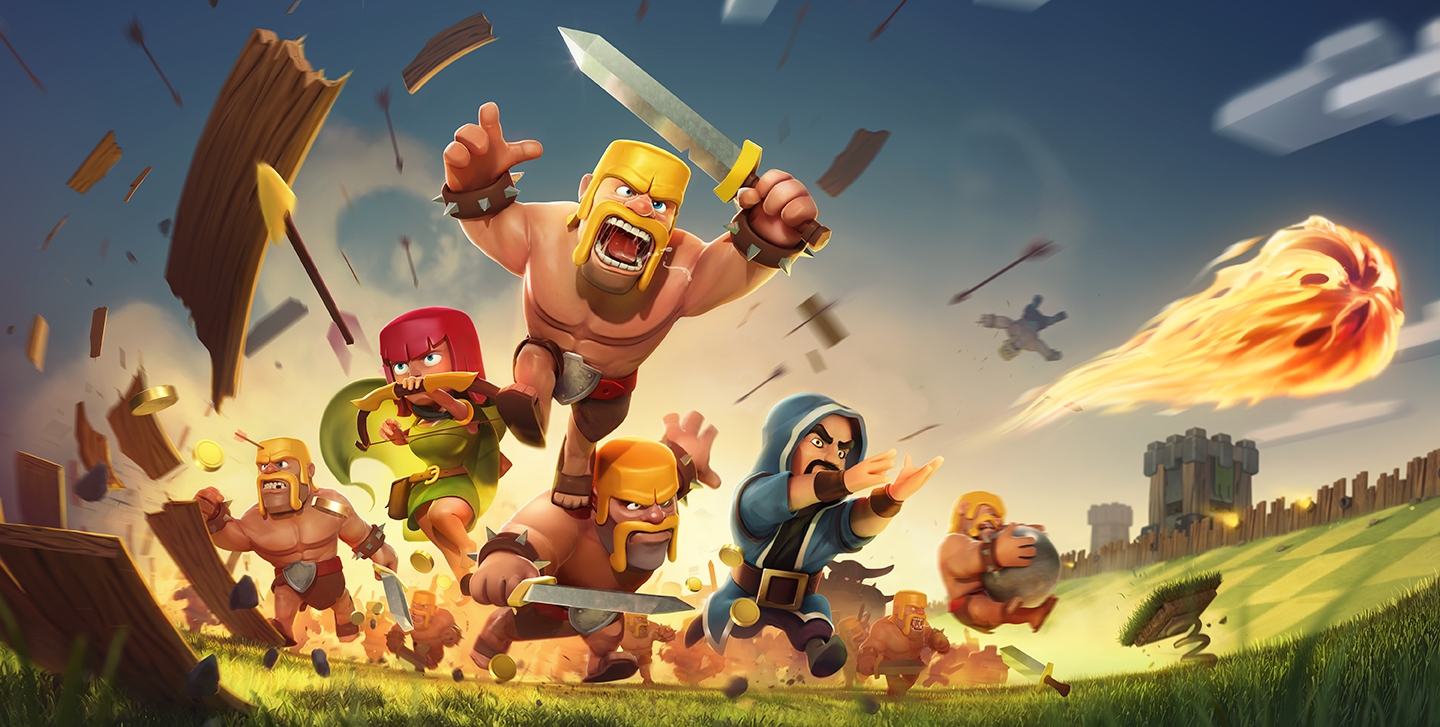 Clash of Clans was released in 2012 on various platforms that include Android and iOS. This game was created by Supercell. Clash of Clans is available for free but in game currency is available for purchase from the Apple Store and the Google Play Store. These add ons are completely optional, you can even turn off this feature if you never plan on making a purchase.
Clash of Clans is a game of strategy and attack. This game have everything from rage filled barbarians to pyromaniac wizards. Choose your army, upgrade your characters, and lead your clan to victory. You must also build your village to create a place of rest and protection for your battle team. Clash of Clans can be played online against millions, so prepare yourself for the worst because an epic battle is about to begin.
This combat strategy game is addictive and one of the most popular games played on iPhone and iPad today. You'll spend a ton of time gathering resources to build a better village and to upgrade your soldiers. There are many fighting options in this game, send your soldiers off to battle, keep them close, or join a group for a stronger attack. This game is great but there are a lot more games like Clash of Clans available, we've found the best and listed them all below for you to enjoy. Have fun!
1. Boom Beach
https://www.youtube.com/watch?v=Dj1ySgy-ysw
Like the Clash of Clans gameplay, Boom Beach focuses on strategy and attacks. This addition to our list of games like Clash of Clans is a multiplayer game that was released in 2013 also by Supercell. Boom Beach is free to download on iOS and Android with additional content for purchase, just like the COC online game. Boom Beach lets you attack other players or computer generated bases. The games story is set in a tropical paradise. Boom Beach lets you build your base, add buildings, train your army, and unlock numerous upgrades. This game also has a co-op mode which lets you gather intel by finding rewards and surviving attacks. The intel you find can be used to attack task force operations.
2. Viking: War of Clans
This game hit the market in 2015. Viking: War of Clans is available on iOS, Android, Facebook, and on your browser. This game was developed by Plarium. Viking: War of Clans is one of the best clan games like Clash of Clans. This game is free to play like the other Clash of Clans type games with certain features available for purchase. This game's main goal is to capture the place of power. Viking: War of Clans has you create your own clan, train your troops, upgrade your towns, and control your hero. This game requires resources like iron, food, stone, silver, lumber, and gold to upgrade all your characters and items. These resources can be found by doing various in game quests, or you can purchase them with real money. While playing online, you can join up to 100 other players to create a massive clan. Create your clan now and find your own place of power in Viking: War of Clans.
3. Clash of Lords 2
This COC similar game is called Clash of Lords 2. Clash of Lords 2 is a very popular mobile strategy game that is available on Windows, Android, and iOS. This game is set in a fantasy world and like the other games on this list, Clash of Lords 2 is a game that has your defending and training heroes for battle. In this game, you will find a ton of challenges that must be completed for various rewards. These rewards can include in game currency, resources, or extra characters and buildings. Clash of Lords 2 is very entertaining and lot of fun. You'll never run out of things to do in this game. Join the monthly challenges and don't miss the other game modes like the guild clash and the resource raid for extra items and upgrades.
4. Castle Clash
With a name like Castle Clash, this game must be added to our list of games like Clash of Clans. If you love to play COC online, you'll love Castle Clash. This is another free to play game that was created by IGG. This game is exclusively available on Android. Castle Clash requires an internet connection to play. This game has over 10 million users worldwide. This game is fast paced, exciting, and it's filled with mythical creatures, big and small. Castle Clash requires you to fight and protect your village to become the world's greatest warrior. Build impenetrable fortresses, create a deadly army, and pit your heroes against other players in the arena. Join a guild and share the wealth. Use your connections to battle the tough bosses for awesome rewards.
5. Pocket Fort
Pocket Fort is very similar to Clash of Clans. This casual strategy game can be played by kids and adults. This game can be played on Android and iOS. Pocket Fort was released in 2014. This game has cartoon violence and a fantasy theme. Pocket Fort is played worldwide and like all the other strategic games on this list, you must collect resources to build your empire. Pocket Fort has a single player mode and a multiplayer mode. Use the single player mode to understand how the game works and to build your army. When you're ready, jump into the multiplayer world. If you're searching for a comical alternative to Clash of Clans, you'll love this game called Pocket Fort.
6. Call of Duty: Heroes
Another one of the top free to play games similar to Clash of Clans is Call of Duty: Heroes. This Android and iOS mobile game is based on the popular franchise of the same name. Call of Duty: Heroes launched in 2014 and it was created by Activision. Call of Duty: Heroes lets you experience Call of Duty wherever you go. This game has soldiers, and drones, and heroes that need your help commanding them to be the best they can be. Use your strategy skills to dominate your enemies and take command of your outpost to build a base that cannot be defeated. When you play Call of Duty: Heroes, you can also join your friends online to create an alliance that can't be beat. Every move you make in this game earns points towards higher rewards. Try to stay alive and collect enough points for better weapons and even a cool helicopter.