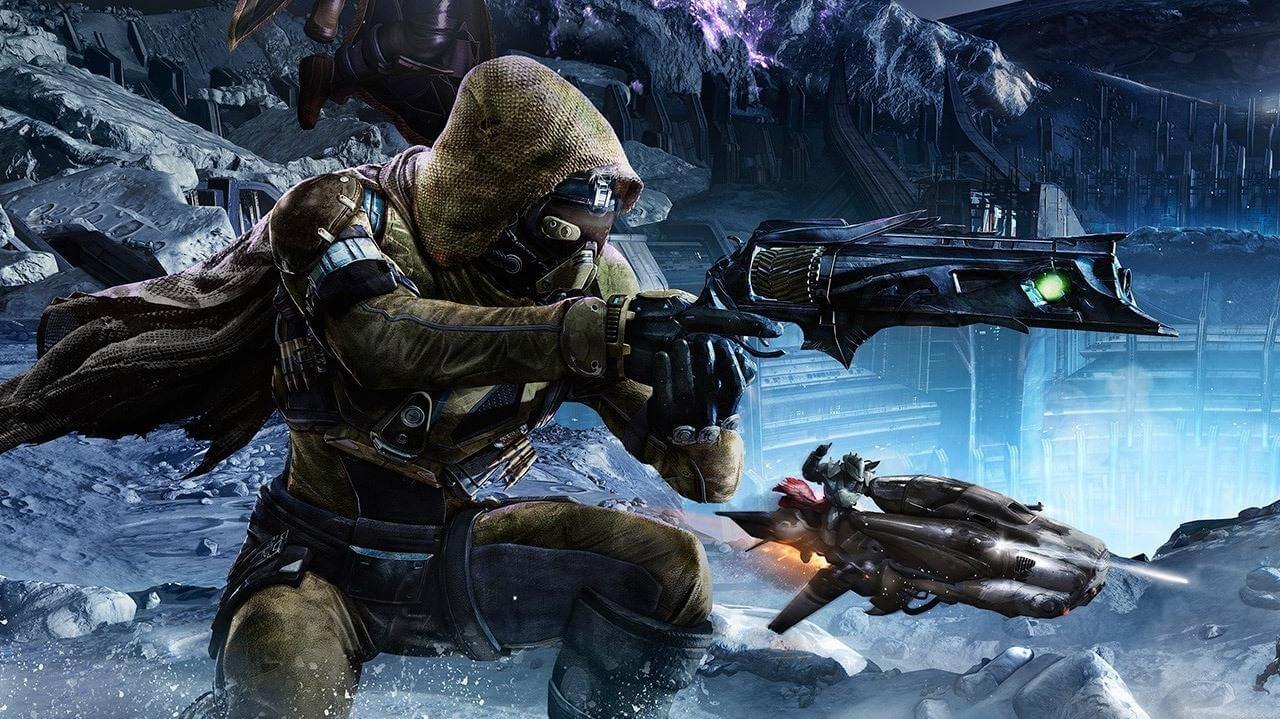 Destiny is a game developed by Bungie and published by Activision. This original Destiny game was released in 2014 for PlayStation and Xbox. A new Destiny game called Destiny 2 was just released in 2017 and it's available on PC using your Steam account. The new Destiny pc game follows the main storyline and continues to have your player fight the Darkness.
In the original mythical science fiction Destiny game, you are a guardian. Your goal is to protect the last safe city on Earth while using a power called Light. Scattered throughout the cosmos are numerous alien races and enemy factions. Travel through the cosmos to find survivors, gather loot, develop your character, and revive a celestial being called the Traveler. Reclaim what has been lost but be brave, not stupid. There's a lot of danger in the Destiny universe.
The main storyline in Destiny is fairly short. It will take you an average of 11 hours to complete, but the 100% completion of this game will take you a long time and not many have achieved this goal. To find everything in Destiny and go everywhere, it will take you more than 350 hours of gameplay. Destiny is one of the most popular multiplayer games every created. If you like fighting your way through alien races and saving the world in the process, you'll love these other games like Destiny listed below, each one is set in a futuristic world, has deadly weapons, and a ton of things to kill and explore.
Halo
If you're looking for one of the best PC games like Destiny, you'll love Halo. Halo is another game created by Bungie, like Destiny. This game was first released in 2001 with its latest release in 2017. Halo is playable on PC, Mac, Xbox, and Windows phone. This military science fiction game centers on an interstellar war between humans and a group of theocratic aliens known as the Covenant. Halo is known to be one of the best open world games on Xbox. The original Halo game has sold over 65 million copies worldwide. The first Halo game takes about 10 hours to complete the campaign but more if you want to explore every nook and cranny, which we recommend. Once you're finished with the first one, check out the other 6 Halo games to further understand the complexity of the future.
---
Killzone: Shadow Fall
The first addition of Killzone was released in 2004 and the newest edition, called Killzone: Shadow Fall was released in 2013. This Sony Interactive game is available exclusively on PlayStation. Killzone is a first person sci-fi shooter game set in the 24th century. This addition to our list of games similar to Destiny is about a galactic war between the Helghan Empire and the Interplanetary Strategic Alliance. There are four playable protagonists in this game, each with their own agendas. In this game, you will meet numerous characters who will assist you in your missions and some that will try to keep you from achieving your goals. Killzone is a ruthless game that can be played alone or with others. There are more than 45 levels to complete in the original Killzone game and 11 intricately detailed environments to discover.
---
Overwatch
Overwatch is a Blizzard Entertainment first person action shooter game. This addition to our list of best games like Destiny for PC is also a huge hit on Xbox One and PlayStation 4. Overwatch is a multiplayer game, there is no solo playing in this universe. To play this game, you must start by choosing a hero. Your choice can be a scientist, a soldier, an adventurer, or an oddball. Each hero has a different set of attributes so choose wisely depending on your gameplay strategy. Once you're ready to begin, you will be thrown into an ultimate battlefield set in the future. Visit iconic locations, unleash extraordinary powers, gather deadly weapons and more. Join a faction to beat the baddies in this game called Overwatch, because the world needs heroes and you're about to become one of them.
---
Warframe
Warframe is another game found among Destiny like games that is only available to play with others in a multiplayer universe. This game is the one that everyone's talking about. The Warframe game by Digital Extremes is free to play on Windows, PlayStation 4 and Xbox One. This game gives you control of an ancient species of warriors called the Tenno. The Tenno have just awoken from an eternal cryosleep. Travel the solar system, dwarf planets, and pocket dimensions to complete your missions, find unique loot, and defeat a race of militarizes human clones called the Grineer. Use your fully customizable ship to rest up between missions and plan your next attack. There are millions of people playing Warframe, join them now in this game that's completely free to play.
---
Fallen Earth
Fallen Earth is a game that was released in 2009 for Windows and Mac. This game was developed by Reloaded Productions and features a huge free to play multiplayer online world. Fallen Earth takes place in an apocalyptic wasteland located in and around the Grand Canyon. You can find hundreds of weapons and items to help you navigate through the wasteland and a ton of vehicles to help you survive. Everything can be crafted and improved to give you a better chance of survival. There are over 1000 square kilometers to discover in this multiplayer game. Gather a group of players and start playing Fallen Earth now. Try to take out the evil corporation called GlobalTech and help the world become what it once was.
---
Titanfall
Multiplayer first person shooter games are very popular in the science fiction gaming world. This game created by Electronic Arts called Titanfall is another one of these genres. This addition to our list of games like Destiny online has you controlling a pilot and its mech-style Titan in a war-torn colony in outer space. Titanfall is fast paced and filled with action and each gameplay can have up to 50 online players at the same time. This game is available on PC and Xbox. The solo game can be completed in 6 hours if you do a quick run-through, a 100% completion will take you about 100 hours. This online multiplayer game can be endless depending on how much of the unexplored star system you want to visit. Begin your adventure now by clicking on the link above.
---
Horizon Zero Dawn
https://www.youtube.com/watch?v=RRQDqurZJNk
This game set nearly 1000 years in the future was developed by Guerilla Games and published by Sony Interactive is exclusively available on PlayStation 4. Horizon Zero Dawn is a third person action adventure game that's set in a massive open world. This is one of the newest games on our list, Horizon Zero Dawn was released in 2017. In this game, you're a hunter and archer called Aloy. You have been sheltered all your life. When you finally set out to explore the world, you discover that its inhabited by mysterious mechanical creatures, big and small. Hack machines, swim to unreachable locations, set traps, explore ruins, and improve your character's traits with the three categories found in the skill tree. Horizon Zero Dawn has a dynamic weather system, a day and night cycle, and numerous terrains to make your experience in this world utterly unique.
---
Planet Calypso
The last addition to our list of science fiction games like Destiny is called Planet Calypso. Planet Calypso is a MindArk creation that was released in 2003. This game is available to play exclusively on Windows. Planet Calypso is a role playing game played with an online community of gamers. You'll never be alone in Calypso. This game needs you to rebuild and restore a lost civilization. Explore, hunt, fight robots, craft weapons and items, develop skills, and more in this science fiction game. The best thing about Planet Calypso is that it's completely free to play. Additional content can be bought with real money but nothing needs to be purchased to complete the game.