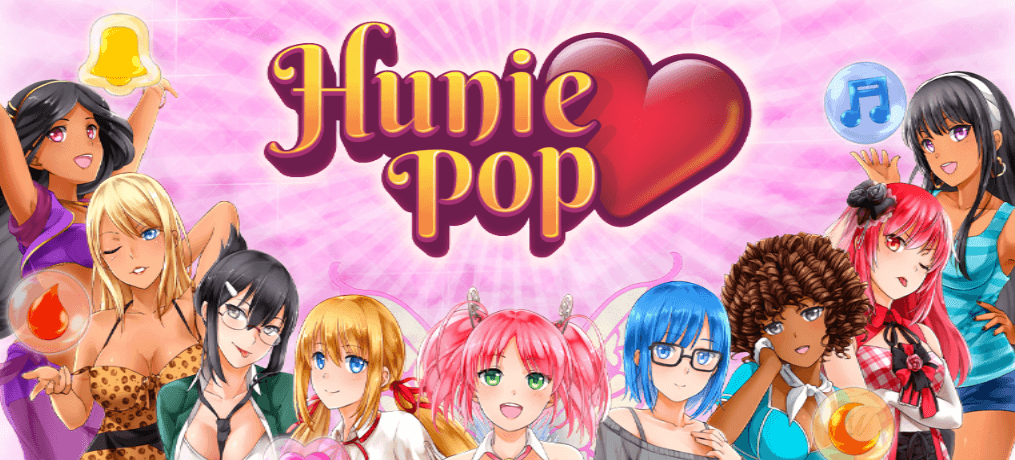 HuniePop is a hybrid game created by HuniePot in 2015. This game is a blend of tile matching and dating simulation. HuniePop is a fun game for adults with mature themes that shouldn't be played by kids. HuniePop is playable on Mac, Windows, and Linux. You can find the uncensored version of HuniePop on MangaGamer and Humble Bundle and the censored version on Steam. Because of the sexual content and themes found in this adult pc game, Twitch.Tv has banned streams of this game on its site.
This game is about a man that tries to woo his way through several women in his home town, you can also play as a woman. One month after the games release, a new ending was added. This new ending gives you more options for your female characters, among other things. HuniePop lets you play as a male or a female. You will interact with several other singles with distinct personalities and looks. You can give gifts to these characters and talk to them. To progress in the game, you have to match 3 or more tiles to make combos. The combos will give you points called "hunie", use your hunie to advance in the game.
HuniePop will have you going on dates, if you date is successful, you can bring your date home and have sexual intercourse with him, or her. Master your match 3 skills in this dating/puzzle game to get as far as you can with your date. This game is considered to be pornography because of its detailed scenes. Adults will love this game because of the challenge. You'll soon find yourself trying to match as many tiles as you can to can get to the grand finish. This game is exciting and a ton of fun. If you like adult rated video games and hentai games, you'll love this list of games like HuniePop. Just be sure to play these games away from children.
Kitty Powers' Matchmaker
Kitty Powers' Matchmaker is one of the best video games for adults. This simulation game playable on Windows, iOS, and Android. Kitty Powers' Matchmaker can be played on your mobile and on your desktop. Your job in this game is to assist your boss, Kitty Powers'. Kitty is a drag queen and matchmaker. Kitty has just launched a new dating service, you must match people together. If a match is successful, the couple can fall in love, and end up in bed together. In the Kitty Powers' Matchmaker game, you can match same sex couples together, this opens a door to hundreds of possible matches. If you want to play cupid, you'll love this addition to our list of adult themed games similar to HuniePop.
---
Leisure Suit Larry
Leisure Suit Larry must be added to the top of our list of adult rated video games like HuniePop. Leisure Suit Larry has a long series of games. Its first release was in 1987 and its last release was in 2013. In total, there are 14 Leisure Suit Larry games in total. This open world game stars a balding, leisure suit wearing, man in his 40's called Larry. Larry is a man that tries to seduce women, without a lot of success. Your job in this game franchise, is to help him out. Leisure Suit Larry takes place in many locations like at a college, a beach resort, and a casino. This game has nudity, sex, and a lot of drinking. Leisure Suit Larry is a lot of fun, we guarantee that you'll be entertained. This game created by Sierra Entertainment is playable on PlayStation, Xbox, Mac, and Windows. Some versions are available to play on mobile devices.
---
Roommates
This alternative to HuniePop, found on our list of best adult pc games, is called Roommates. Roommates was created by Winter Wolves and it's playable on your computer and on your mobile devices. To play Roommates, you have to select either a male or female player, both have very different social lives and personalities. When that is done, you can start playing. To play this game, you must lead your character through college, meeting their roommates and trying to manage their school and a social life. Roommates has a ton of different characters that you can hook up with and play with. This game has sexual content, rude comments, profanity, and a ton of alcohol.
---
Sengoku Rance
Our list of adult anime games must include this game called Sengoku Rance. Sengoku Rance is a dating simulation game, like HuniePop, filled with  omical moments and cute puns. This game has a plot that revolves around a ruthless warrior named Rance. Rance isn't avenging something in a furious rage like most warriors, his main quest is to have sex, and a lot of it. Lead Rance through the trenches, so to speak, and try to conquest as many willing women as you can find. This is filled with adult content and a lot of humor. Sengoku Rance is no doubt a game worth trying, which is why we must add it to our list of game recommendations.
---
Conception II
If you've ever wanted to inseminate a ton of girls in a short matter of time, then this game is for you. This addition to our list of adult computer games like HuniePop was released in 2013, developed by Spike Chunsoft, and playable on Nintendo 3DS, Windows, and PlayStation. Conception II puts you in control of a high school student. This student has a high amount of ether in his body. The ether gives him the power of conception. Your job is to use your power. The story of this game will change based on the decision you make. Try all the different ways to see what happens. Conception !! has a wide fan base, try it to see why.
---
Dandelion
https://www.youtube.com/watch?v=fuI9HVK_lnU
Dandelion is another adult themed game just like HuniePop. This game is also a dating simulation. What sets Dandelion apart from the other games like HuniePop on our list is its strong storyline and the process you need to go through to reach the end of the story. Dandelion puts you in the shoes of a cute girl. After a weird event involving cats and rabbits, you will be faced with single men who want to date you. You must choose a man and get to know him. Depending on who you choose, this game will have a different ending. Play the game over and over again to see what fate has in store for your character with each man. Dandelion is a dating simulation game with sexual content and adult themes, making it a game that should only be played by adults.
---
BoneTown
BoneTown is an adult video game that was released by D-Dub Software in 2008. This game is only playable on Windows. BoneTown centers on a man that must complete missions to be able to have sex with all the women in town. This action adventure video game is played in single player mode. When you play BoneTown, you will see your character's testicles growing. The bigger they get, the more women you can have sex with. This game has a ton of unique sex scenes, realistic sound effects, and things like people urinating on other people's faces. BoneTown isn't found on sites like Steam because of its pornographic content. If you want to play this adult pc game, you will have to order the digital copy.
---
Coming Out On Top
This game was released in 2014 by Obscura. Coming Out on Top is a gay themed dating simulation game. They created this game after a successful Kickstarter campaign. Coming Out On Top wasn't available on Steam at first, but in 2017 it was finally approved. This game has received a lot of positive reviews by gay males. The Coming Out On Top game is about a college student who comes out to his roommates. Flirt with guys, get drunk, have sex, and confide in your pet fish in this game. Coming Out On Top has crucial choices that need to be made before you can advance to the next step. This game is cute, entertaining, and humorous and the script is worth listening to.