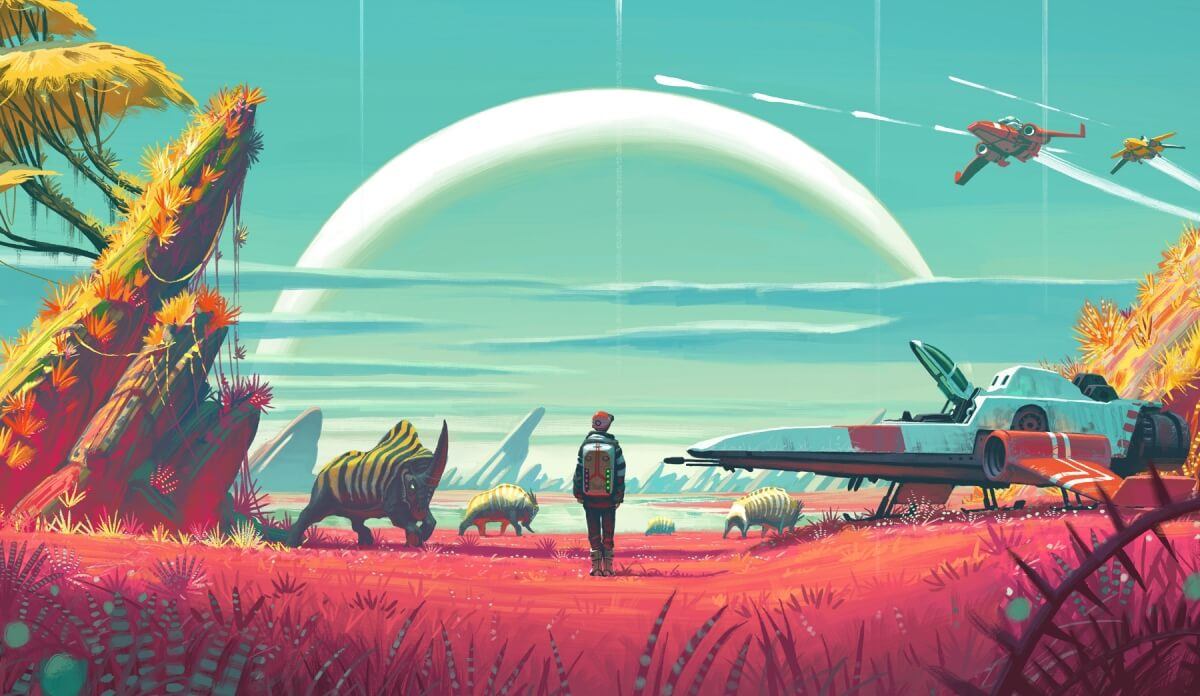 Space is something that we know little about. What we know about space is usually found in movies, pictures, and books. When night comes rolling in and the starry sky appears, we tend to look up and imagine what can be found far from our home. Great minds have thought up their own unique environments and have put them into movies and games. This list features some of the best space games of all kinds. One of our favorite space exploration games is No Man's Sky. This game is part adventure, part action, and part survival.
No Man's Sky was first launched in 2016 for Windows and PlayStation 4. Developed and published by Hello Games, this action adventure survival game can be played alone or with friends online. No Man's Sky is built of four pillars: exploration, combat, survival, and trading. In this game, you are free to explore the massive open universe that contains more than 18 quintillion planets. A huge number of these planets have their own flora and fauna to be discovered. This game is enormous, a quick play through will take you about 25 hours, if you want to explore everything, expect to play No Man's Sky for a hundred hours and more.
In this game, you will need to exchange information with other players, study the flora and fauna, find new planet coordinates, explore the universe, find alien lifeforms, and more. No Mans Sky has a beautiful soundtrack and stunning visuals. You're guaranteed to escape from reality once you start this game. An ethereal voice that calls himself The Atlas will lead you towards the center of the galaxy but its your choice to follow his lead or not. No Man's Sky can be discovered your own way, there is no one way to play this game. This game has been such a success that it went Gold during its beta testing, a month before its official release. If you love space exploration games, take a look at these other games like No Man's Sky below. Explore the universe, encounter aliens, and edit your surroundings, and more.
Elite: Dangerous
One of the best space strategy games like No Man's Sky on our list is Elite: Dangerous. This game published and developed by Frontier Developments was released in 2014 for Windows, in 2015 for Mac and Xbox, and in 2017 for PlayStation. Elite: Dangerous is a space trading and combat action adventure game set in space. You can play this first person game alone or with others online. This game is the fourth of its series, the first Elite game was released in 1995. Elite: Dangerous is set in 3303. When you start your game, you will be in a spaceship with a limited amount of money and a sad weapon. Your goal in Elite: Dangerous is to travel the galaxy, hunt for bounties, trade items, assassinate evil, and more. There are 3 major factions in this game, find the one that fits with your character and fight alongside them to get stronger and reach higher levels. In this game, you will find more than 400 billion star systems. Over 150,000 of these star systems are based on real clusters found in space. Elite: Dangerous is so massive it will take you about 100 hours to complete the main story, if you want to achieve the 100% completionist trophy, expect to be in space for 300 hours and more.
---
Dual Universe
Dual Universe is the newest game found on our list of space adventure games like No Man's Sky. This game was just released in September 2017. Developed by Novaquark and playable exclusively on Windows, Dual Universe is a sandbox MMORPG space trading and combat simulator. Dual Universe can only be played with others online, there is no solo version for this game. Dual Universe is part Minecraft, part No Man's Sky, and part Space Engineers. This game is set in a single shard universe where players are free to edit whatever they want. You can change the landscape, the structures, and more in this game. Dual Universe is also a game that involves other strategies like trading, politics, crafting, warfare, exploration, and mining. Since this game is so new, there are currently no records for the complete gameplay time.
---
Space Engineers
If you're someone that likes to play creative games, you'll love this alternative to No Man's Sky called Space Engineers. Space Engineers was released in 2013 for Windows. This game published and developed by Keen Software House can be played alone or with others online. Space Engineers has two modes, survival and creative. In the survival mode you need to build a safe zone, battle enemies, eat, drink, and more to stay alive. The creative mode gives you unlimited resources to build whatever you want without the threat of malnourishment or an attack. Space Engineers is an Indie game with great promise. This game won the first place of Indie game of the year in 2015. The main story of this game is quite short, with only about 17 hours of gameplay, but if you want to explore the entire Space Engineers universe and build anything you can imagine, expect to play for 100 hours and more.
---
Starbound
Starbound is an action adventure game found on our list of games similar to No Man's Sky. This game published and developed by Chucklefish first launched in 2016 for Windows, iOS, Linux, PlayStation 4, PlayStation Vita, and Xbox One. This game can be played solo or with others online. Starbound starts you off inside of a spaceship. You are there because Earth has just been destroyed. With nothing to guide your way, you soon find yourself floating in the middle of nothing. Eventually, you find yourself on an unknown habitable planet. On this planet, you will need to gather supplies, hunt, explore, and discover the ecosystem around you. Starbound is part action adventure, part sandbox. You can choose to follow the quests if you want non stop action, or you can take the peaceful route and try to build a settlement for yourself and anyone that might cross your path. The main quests of this game will take you about 19 hours to complete, getting the completionist trophy can take you 250 hours and more.
---
Astroneer
If you like space adventure games but don't have hundreds of hours to play, you'll love this last addition to our list of alternatives to No Man's Sky. This game will only take you about 4 hours to complete, add about 6 more for a 100% completion. This Windows exclusive game was just released in 2016 by System Era Softworks. Astroneer is a sandbox game filled with adventure and discovery. This open world game is played in third person. Astroneer is about exploring planets by foot, by lunar rover, or by spacecraft. You can craft better vehicles, better oxygen tanks, better equipment and more with the resources you find during your exploration. In Astroneer, you can die from suffocation so you must always keep an eye on your breathable air. Play this game alone or with friends online. Astroneer is still in its early access release so expect fo find bugs and glitches, the real version of this game will come out in 2018.